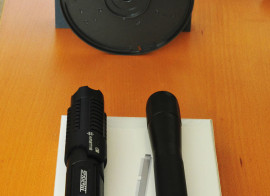 As luck would have it, my local Rite Aid drug store had the CR123A batteries I needed to power my new Spartan 1 watt blue laser. So, it's time to put it head-to-head with the Arctic to see which one can rightfully claim the title of "most powerful portable laser". You might be surprised at the results.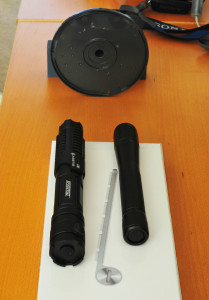 OK, this isn't the most scientific of tests, but it's straightforward and provides a clear result. The test involves putting both lasers side by side, aimed at a target a few inches away. The target in this case is the plastic base for a stack of blank CD-R's. fairly thick plastic about 3/32″ thick. It's dark in color (dark gray, not black), so it absorbs the laser light energy fairly well.
Both lasers are rated at 1 watt, with the actual optical output rated somewhat lower. Please note that while my test shows a clear winner, this is not by any means a definitive test. Others have been playing around with lenses, batteries, etc., and getting different results than me. I will offer this opinion, that with such different results among the same product, one has to question the manufacturer's quality control.
Test video below:

You might also like: