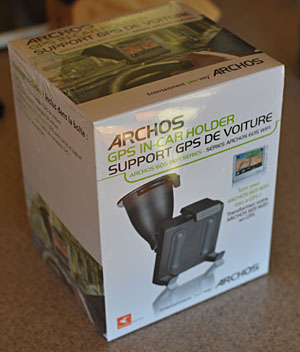 Let me save you a lot of time and a whole heap of trouble: If you have an Archos 5 IMT, don't waste your time with the GPS cradle.
Archos customer support is horrible. It's the stuff of legends. I never had to deal with it until I bought this piece of crap, so I naively went ahead with the purchase. Now the device was originally designed for the Archos 605, but in Archos' infinite wisdom, they changed the connector on the Archos 5. Why? Who knows. Now, to their credit, they included connectors for both the 605 and the 5 in the GPS package. So far so good. Now the fun begins…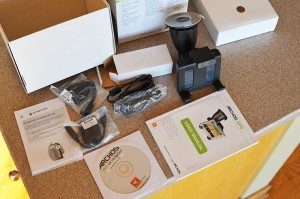 The package includes the map software on CD, so I load it up and start the installation. The software asks for an activation code that's either on the CD sleeve or an insert in the manual. Well, it's neither. It's a label on the CD itself, no big deal. I enter the code, but the software says it's an invalid activation code. Huh??? A quick check on Archos website turned into a half hour search, but here is their solution to the problem. This is a quote directly from their FAQ page:
Your map code might only be composed of 12 characters including an underlined digit/letter.In this case, instead of typing the underlined character, enter a "&" before the character that is underlined (ex: "2

C

4" becomes "2&C4").
If your map code has 13 digits, reinstall your GPS software using the DVD.
OK, bullet one above didn't apply, so it must be bullet two, right? Are you kidding? Reinstall the software? That's it? And what? Hope the installation software is in a better mood the second, third or fourth time and accepts the number?  Needless to say, option two didn't work. Archos must have gotten their solution from a shampoo bottle…lather-rinse-repeat.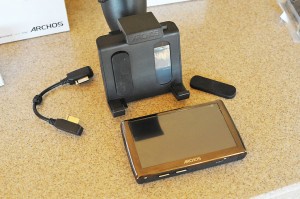 Now, Archos had the sense to include another connector in the package for the 5, but didn't include a valid activation code? Furthermore, their website provides no clue on how to get one that works and instead offers a pathetic excuse for a resolution.
So instead of getting the answer from Archos, I google my problem on the internet. Lo and behold, there seem to be plenty of people having the same problem. They called Archos customer support. Another waste of time.
I called Archos customer support and their automated greeting tells me peak times of Monday through Friday result in high call volumes (gee, I wonder why) and therefore long wait times. It was suggested to call another time to reduce wait time. OK, it's Saturday afternoon, so I figure I'm outside the high call volume window, so I should be good. Well, I spent 31 minutes on hold. Finally a tech answers and the conversation goes something like this:
Me: "Yeah, I'm trying to install the GPS software on my Archos 5 and it says the activation code is invalid."
Tech: "Um…OK…this is my first GPS call."
Some long pauses, I repeat the problem a few times, the tech finally understands and appears to find the resolution script in his help desk system.
Tech: "OK, what's your product?"
Me: "Archos 5, 250gb"
Tech: "Serial number?"
Me: "blikka blikka blah blah blah"
Tech: "OK, Archos order number"
Me: "I didn't get it from Archos. I bought it from Amazon."
Tech: "Um…Uh…Hmm…OK…Um…Uh…Mmmmm"
Me: 
Tech: "Uh…you're going to have to call back Monday (Me in my head: "you mean, during peak call volume?") and talk to customer service and tell them your problem. My system won't let me go any further without an Archos order number."
So let's get this straight. It never occurred to Archos that someone might buy their product from someone other than Archos? Now I've already wasted a couple of hours with the software, tech support, internet searches, to try and resolve the problem. Discussions on various websites have users complaining of long wait times on the phone, and when they finally get a rep to talk to, he/she advises the customer that a new activation code will be emailed to them. Well, as you might guess, these users have complained that they've never gotten the promised email and have to waste more time calling again.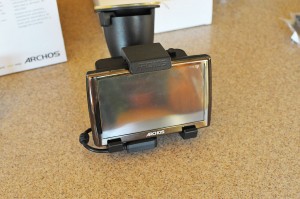 At this point, I've heard, read, experienced enough. I boxed the junk back up and sent it back to Amazon. Archos doesn't care and neither do I anymore, except to warn my readers. Oh, and here's another tidbit: A lot of users are complaining about poor routing and anemic feature set of the gps anyway. 
For all its faults, my Cowon Q5W GPS worked flawlessly out of the box. It doesn't have the most robust features of dedicated GPS devices, like text-to-speech for street names and such, but I had no problems installing the software, and it works and I've used it with success each time. Once, it calculated a route that was shorter, but it took me off of an expressway, and put me on a street full of traffic lights and heavy traffic, only to put me back on the expressway a few miles later. That was a annoying, but other than that misstep, it's been A-OK.
I don't know if Archos ever plans to remedy this activation problem with their GPS cradle. They seem content to let it continue. So until I hear otherwise, I'm not buying one.
You might also like: