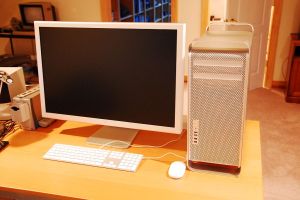 I've gone over to the dark side. After being a PC user for over 19 years, I bought my first Mac last week and it's just arrived.
Mac announced their new Penryn processor Mac Pro's last week, much to everyone's surprise, a week ahead of the MacWorld expo. I had been following the rumors of a Penryn based Mac Pro for some time now and decided when they were released, I'd go for it. I usually upgrade my PC every 3-4 years, and when I do, I try to get the best one I can afford. Specs on mine are: Mac Pro with Dual Quad Core 3.2ghz Penryn processors, 2gb of ram, and 1TB hard drive. I got their bottom basement graphics card (ATI Radeon HD 2600 XT, 256mb), because the better NVIDIA GeForce 8800 GT with 512MB of GDDR3 memory is not yet shipping as of this post, so I ordered that separately. My monitor of choice is the 30″ Apple Cinema display. The monitor arrived about a week ahead of the Mac, so it's been sitting on my desk, taunting me while I waited for for the Mac to arrive. So, if you've bought one, or are thinking of buying one and wonder what awaits, sit back and enjoy these unboxing photos:




As you might imagine, the box for the mintor is huge, measuring approx. 32 x 38 x 10 inches. The UPS tracking website had the package listed at 89lbs.! Don't worry, it's actually more like 25lbs. The first photo on the left is the box itself. Nice big picture of the monitor itself on the outside. Moving to the right, the next photo show the box flap open and the inner foam packaging. The instruction manual is in a recessed area of the foam. Finally, taking out the top foam packing piece, reveals the monitor itself, wrapped in protective material.
Computer



Here is the box. Both the monitor and the computer were shipped in their Apple boxes and took some lumps during shipping. It would be nice if they had an outer plain box. There was a hole punched right into the Apple logo on the computer box. Deliberate?




Open the box from the top and you'll be greeted by, you guessed it, foam packing. This top piece houses the keyboard, mouse and cables.



Once the top piece of foam packing is removed, the holy grail reveals itself, sort of, veiled by some protective material.




The tower is easy to remove from the box with it's built in 'handles'. It's a slick aluminum case with the Apple logo burnished in on the side. This design has been around for a while (since the G5 PowerMac), but it looks like a piece of fine, modern furnishing. The middle photo is the front, right photo is the back.



Well, there she is in her new home. Outside the frame, to the left, is a very jealous Dell XPS 3.6 ghz P4 (circa 2004).I just feel like I've been through some sort of religous experience. Apple products have that effect on me now, ever since I purchased my first Apple product, the iPhone. Apple seduces you with their sexy looks and snobby "It just works" attitude. Well, I can vouch for the latter in my experience with the iPhone. For a company's first foray into the cell phone market, it was quite an accomplishment, and for the most part, lived up to the hype. Let's see if the Mac Pro can do the same. More to come…
You might also like: