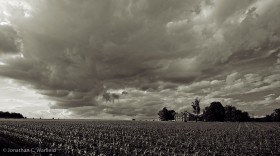 Continuing my "at home" series of photographs, I caught this one Sunday afternoon.
After about two weeks of rain off and on (mostly on), the sun finally came out long enough for me to catch this scene as the storm clouds were moving out. 
Tech details: Nikon D700
, Nikon 17-35mm f/2.8D AF-S
@ 17mm, f/8, 1/400 sec, ISO 800, White Balance-Auto, Filter-Warming Polarizer
, Photoshop-Converted to B/W, then Duotone using the Quadtone preset Bl 541 513 5773 for slight sepia toning.
You might also like: