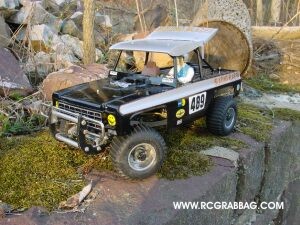 The second offering in the famous three-speed line from Tamiya, the Blazing Blazer was an unusual vehicle, modeled after an off-road racing truck.



The first thing that impressed me about the Blazer, was it's size. At 1/10 scale, it's the same scale as the majority of Tamiya's RC cars, but the Blazer is very tall and wide.



This is a close up comparison of the Blazer with the Hilux. The Hilux has a transistorized electronic speed controller while the Blazer's is strictly mechanical.


Now this is a battery! Vintage (and heavy) 4000mah gave 30min. run times back in the day (1981). Today, ummm, well, it holds a charge pretty well. I've used it in my Bruiser and got about 20 minutes, I think. Not too bad for a 25 yr old battery.


Both the Blazer and the Hilux have locking hubs just like real 4wd vehicles did back then. This 'locked' the front hubs with the axles for positive 4wd mode.



Underside of chassis shows an abundance of metal parts, as was typical Tamiya construction. Big, beefy brass u-joints actually wore out pretty quickly, but they can be replaced with newer generation steel units from Tamiya vehicles like the F350.


Again, like the real thing, leaf springs are the bouncy part of the suspension here. They're mighty stiff though, and that makes for a bouncy ride. Not a good thing for a twenty year old RC vehicle and its hard plastic body.

Vintage Hilux and Blazing Blazer video here.
Originally posted 2015-09-30 19:49:37.
You might also like: