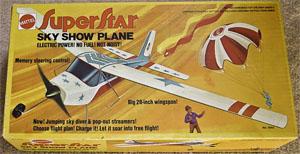 Back in 1973, I saved up all my pennies to buy one of these at the now defunct Kiddie City toy store in Hatboro, PA. Today, I spent more than a few pennies to nab this example off of ebay.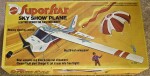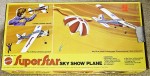 As a kid I loved airplanes. I'd spend hours tossing around a balsa wood glider from Comet that could be purchased at the impulse rack near the cash register at the local department store. After seeing a commercial about the SuperStar, I knew I had to have one. The Superstar was an electric free-flight airplane with some truly unique features. It was powered by on-board rechargeable ni-cad cells that were recharged by connecting a 6v lantern battery. This gave the plane a couple of minutes of flight.  But that's not all, the plane could be flown in a designated pattern by choosing one of a set of four flight "disks" and, could drop a parachutist and release a streamer while in flight as part of its flight program.


The side of the box illustrates some of the mechanical features of the plane. The center illustration is the electric power plant, showing a geared propeller drive and two nicad cells towards the rear. The illustration to the right shows a smiling kid loading the flight disk in the bottom of the airplane. The disk had cams (notches and bumps) around its perimeter. When the plane was switched on and launched, the disk would spin slowly, driven by a geared connection to the motor. A lever would ride in and out of the disk's cams and this lever would move the plane's rudder thereby causing it to fly a designated pattern.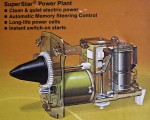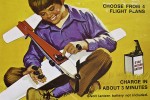 Close-up of box side illustrations. That kid sure looks happy!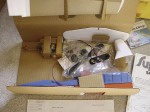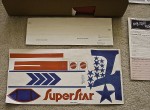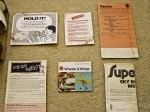 Box contents. On the left is the fuselage, wing panels and various pieces of hardware. The fuselage was thin vaccu-formed plastic while the wings were foam. Middle photo is of the decals. To the right is the literature included.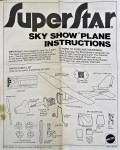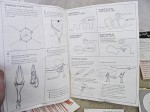 Instruction manual. Note the four flight disks in the first photo. In the second photo, the manual provides a diagram of each disk's flight pattern. You could fly it tethered too, but I couldn't imagine why you'd want to.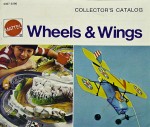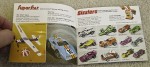 Product catalog is a trip back in time. Mattel made a car version of the Superstar plane. The car used the same type of disks to make the car drive in a pre-defined pattern on the ground. And how about those Sizzlers on the facing page? Hmmm, only one is actually a scale model; a Ferrari 512. The rest are a hot rodder's nightmare!  Remember the 'Juice Machine'?
Originally posted 2013-11-05 06:10:44.