When it comes to model railroads, I'm drawn to big steam, and unusual locomotives. This Beyer Garratt from the Land Down Under fits both descriptions well.

Here in the U.S., the unofficial king of big steam is the Union Pacific 4-8-8-4 "Big Boy". Yes, there were more powerful steam locomotives, but the Big Boy is arguably the most popular of the giants. In Australia, the king of big steam is the NSWR AD 60 class 4-8-4+4-8-4 Beyer Garratt.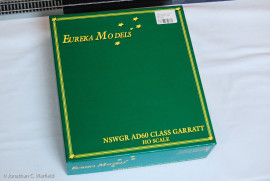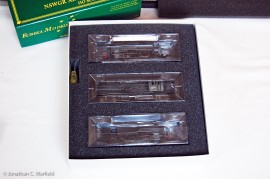 I was aimlessly surfing the internet one day (this is how I get into trouble) when I came across an HO scale Beyer Garratt made of brass on brasstrains.com. I'd never seen anything like it before, nor had I ever heard of a Beyer Garratt locomotive. I had to have one. Not wanting to pony up $1500 for a used brass loco, I started surfing with more purpose. My search led me to this highly detailed, mostly plastic version of the Garratt from Eureka Models out of Australia.
Back in the earlier days of model railroading, if you wanted a highly detailed, ready-to-tun model locomotive, your only choice was the limited run, hand-made, expensive brass models. Otherwise, you had to settle for the toyish, cheaper plastic and die-cast offerings of the day. if you were so inclined, you might take one of these inexpensive models, and detail it with after market parts.



Nowadays, manufacturers have figured out how to create highly detailed, smooth running models out of plastic and die-cast metal for reasonable prices. Some, like Broadway Limited's "Hybrid" locomotives, are even made of brass. And to top it off, many of them are equipped with DCC decoders with sound and smoke, all for a fraction of the price of even used brass locos. This is no doubt due to cheap labor available around the world.
It took me a while to track down this Eureka Models Garratt in HO scale. Eureka made a first run about two years ago, and they are pretty much sold out. A second run is underway, but has been delayed quite a bit with factory and manufacturing issues. Eureka Model's website has more details. We may see the second run in Oct/Nov 2010.
Some Eureka Garratts came equipped with DCC sound decoders installed, but when I discovered the model and began looking to purchase one, the first run had been sold out long ago. So, when I finally tracked one down, I had to settle for a DC model without sound and factory weathered. I'm not a big fan of factory-weathered products, so I'll be doing my own supplemental weathering. Recently, Eureka Models released their second run of the Garratts and I picked one up with sound/dcc installed already. The livery is the Centenary color scheme (black with red & creme striping). This special livery was done to commemorate the Australian NSWR railroad's 100th anniversary in 1955.



Now, a little history on the unusual Beyer Garratt locomotive. This locomotive design was developed by Herbert William Garratt, a British railroad engineer, after he observed articulated gun carriages in action. In 1909, the Beyer Peacock company built the first Garratt type locomotive, the K-1, for the Tasmanian Railways. The design was unusual in that the drivers were placed on either end of the locomotive, one set under the front water tender, the other set under the rear coal tender. In the middle was the boiler and cab, creating the three distinct sections of the Garratt locomotive. The advantage of the design was the ability to negotiate a tighter radius curve than the more traditional articulated designs where the drivers were placed on pivoting assemblies under the boiler. The disadvantage was that traction was lost as both coal and water were consumed, making the tractive weight over the drivers lessen as the locomotive traveled.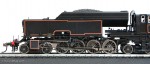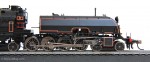 The Eureka Models Garratt is a highly detailed, smooth-running model, made primarily of plastic, with a plethora of separately applied detail parts. I've installed a QSI Revolution decoder in the DC version, which gives it DCC control and sound.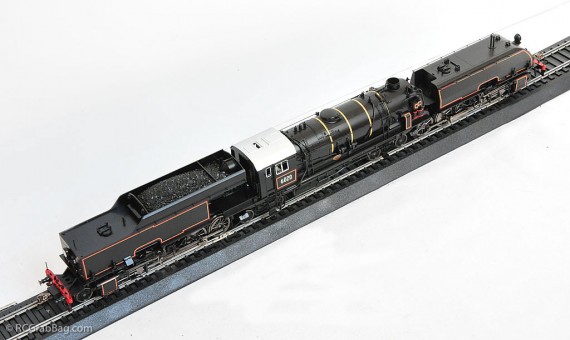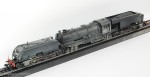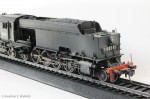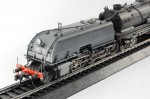 More detail shots to take it all in.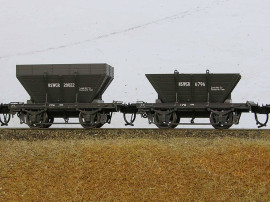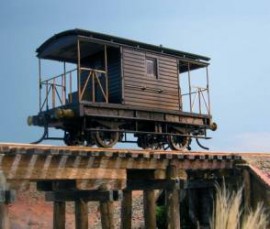 This steamer is going to look great pulling a string of "mineral wagons" around the club layout. I'm sure it will raise more than a few eyebrows though, since our club layout's theme is set in Pennsylvania, USA. These wagons and "guards van" (caboose) are on their way to me and should be arriving shortly. The photos above are stock photos.
Here is the Garratt featured in this post running on my club's layout. It's not what you'd call a prototypical run, since it's traversing a layout modeled in a US theme, but it gives a good idea of the characteristics of this loco:

For a more prototypical run, this video comes from YouTuber "exoto66", and features several Eureka Garratts running around a really nice HO club layout in Brisbane, Austraila. I highly doubt my video will top this one anyway, so enjoy!

Or, how about a REAL Garratt in action? This excellent video comes from YouTube user cnsylvester1:

Originally posted 2014-11-10 02:45:37.
You might also like: